The Subtle Energy awareness Programme® created by sue zange
Discover the hidden world of energies that drive your life!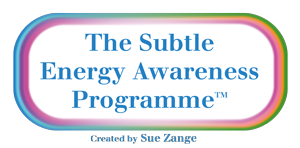 This newly developed training Programme has been created from 14 years of intensive first-hand practical experience of working with subtle energies. Sue Zange has designed a Programme that is accessible to everyone, so you can learn more about managing and commanding the true nature of your life.
A natural flow of electro-magnetic energy resides within, and radiates out, from your body every moment of every day. This field of energy (sometimes called the 'aura') is a complex matrix of patterns, energy forms, and energy transactions.
This field of energy affects every aspect of your daily living, your thoughts, your feelings, your state of well-being. It is the filter through which you take every action, and create all your life experience. Your energetic state bears influence on everything you do.... it drives all aspects of your life.